Sentirse: LLENO DE CURIOSIDADES ESPANOL
(Translation: Feeling Full of Spanish Trivia).
Righto. A short (well, significantly sustained) socio on Spain shall we?
Oh yes. We shall.
So Spain is located in south west Europe on the Liberian Peninsula. Of this little (well, large) lot of land it makes up a good 80 per cent – the remaining 20 comes under the geography of Portugal, a long line of length on the east.
Spain is shaped like the Chicago Bulls sign (fitting when we come to its tie with bulls soon on) and is the second largest country in Western Europe after France. It is 1.87 times the size of En Zed, with Aus outsizing it by a good 15.2 to one. Mainly bordered by the Med Sea it also bumps shoulders (well, horns if going with the bull likeness of things) with Andorra, France, Gibraltar, Portugal, Morocco (Ceuta) and again, Morocco (Melilla), as well as holding ownership of a small enclave within France called Llivia, the Balearic Islands out at sea and the Canary Islands in the Western Atlantic Ocean (108km off northwest Africa). It also has sovereignty on and off the coast of North Africa in Ceuta, Melilla, Islas Chafarinas, Penon de Alhucemas and Penon de Velez de la Gomera.
Spain has a population of 46.77million (as of Wikipedia, 2015). The capital is Madrid (3.2million) and the official language is Spanish, locally known as Castilian. This is for the most part the same as what is spoken in Latin America, the main difference being the accent. The language has the largest number of speakers around the globe, with a rich heritage and history of evolution that has developed into many variations that exist throughout the world.
Co official languages take the form of Basque (Euskera), Galician and Catalan, which are regional languages; during the dictatorship of Franco many of the regional languages were repressed, but the arrival of democracy meant a revival and flourishment of them. So Catalonia and the Balearic Islands chat in Catalan, Valencia voices in Valencian, Navarra and the Basque Country break out in Basque and Galicia gaggle in Galician.
So to clear up the confusion in regards to Catalonia; this is a roughly triangular region in Spain's far north-east corner, separated from France by the Pyrenean mountains. It is one of the richest and most highly industrialised regions, where many of the people think of themselves as a separate nation from Spain. The Catalonian region first came about as a distinct entity with the rise of the country of Barcelona in the 11th century. In the 12th century it was brought under the same rule as the neighbouring Kingdom of Aragon, and became part of Spain from the 15th century when King Ferdinand of Aragon and Queen Isabella of Castille married and untied their realms as one. The 19th century saw a resurgence of Catalan identity with copious campaigning for political autonomy and separatism. Spain became a republic in 1931 with Catalonia given broad autonomy; under the Franco rule this was revoked with Catalan culture repressed and restricted. When oldmate Franco carked it democratic Spain saw autonomy for Catalonia again, with its own parliament and executive. As of recently, calls for complete separation have been growing, what with mainly Catalans believing the affluent region pays more to Madrid than it receives in return. In 2014 the regional government of Catalonia held an informal vote on independence, with 80 per cent saying yay for the breakaway – however, the Spanish government declared the region to have no constitutional right to do so. The rivalry is clearly expressed in the enmity between FC Barcelona and Real Madrid as well as widespread antagonism between Madrid and Barcelona, with inhabitants arguing about everything from the economy to sport, politics to language.
Interestingly, Spain stayed neutral in both WWI and WWII.
It is quite well renowned that the Spanish are good at starting things but not finishing them, hence the great number of abandoned building sites around the ways. It is the nosiest country in Europe (second in the world after Japan), with inhabitants of Spanish cities enduring noise levels well in excess of the World Health Org's "healthy" limit of 65 decibels – mostly from traffic, drills, jack hammers, chain saws and mopeds, car horns, alarms, sirens, radios, TVs, disco bars and dogs. A normal convo is said to be two people shooting at each other from a few feet apart.
Surprisingly, Spain has a kind of complex class structure. The top drawer of the Spanish aristocrats is 400 or so grandees, who are followed by myriad minor nobles – these fellas keep to themselves and remain aloof. Next come the middle class professionals, followed by the lower middle "white-collar" workers, the "blue-collar" working class and then the peasant underclass. Last are the despised drunken tourists and the gypsies who are treated by many as lepers.
In 2013 Spain was the third most visited country in the world with 60.6million tourists. (The World Tourism Organisation has its headquarters in Madrid). Many of the Spanish people don't consider the "concrete jungles" of the Costa del Sol, Costa Blanca and certain parts of the Canaries to be truly "Spain" – rather, they view them as plastic paradises created for or by foreigners for pasty-faced tourists to lie in the sun and get sloshed on shockingly steep sangria. The main draws are Madrid – the capital city where people have lived since the Stone Age two million years ago; famed for its art and culture with more than 73 museums – Ibiza – infamous island in the Med 150k off the coast of Valencia; conjuring up images of raucous clubbing and inescapable soundtracks (made all the more so with Mike Posner's Pill in Ibiza melody of late last year) and all the popular with the all night raver, the boho-hippie chick and the babe on the beach, the modest population absolutely swallowed by the 6million-off tourists that swarm in every summer – Benidorm – seaside resort on the east coast; a tiny fishing village until the 1960s, the two main beaches of Playa Levante and Playa Poniente are now well renowned for their boisterous nightlife (also serves as the inspiration for the British sitcom Benidorm about an ensemble cast of holiday makers and staff at the "Solana" all-inclusive hotel – always think of Uncle Cock who gets all gleeful over the show) – and of course, my beloved Barcelona.
(Insertation here: In August 2015, 43-year-old Brit salesman Neil Murphy was on an all-inclusive week-long holiday in Playa de en Bossa. On his first day of downtime he was discovered motionless on his sunbed at the mare Nostrum Hotel; heatstroke had hit, and he roasted to death as his inquest ruled as of Feb 2016).
To the food!
The cuisine is heavily influenced by the seafood in the waters surrounding all of Spain, mainly in paella and tapas always swimming in olive oil. Like the French, the Spanish eat all the more objectionable bits of animals that "civilised" people tend to throw away – the eyes, the ears, the testes and what not.
Jamon Serrano and Iberico are dry-cured Spanish hams served in thin slices, named after the custom of drying the salted and cured ham in sheds high atop mountains. Jamon Serrano is made from Landrance white pigs, while the latter is from the much more expensive black Iberian hog.
And let me introduce one Florencio Sanchidrian, or the "cortador de jammones"; this chap get paid thousands to – get this – slice ham. The lad had cut ham for the likes of Barack Obama, Juan Carlos, Robert Redford and Robert De Niro, charging a good $4000 for a paltry leg. Starting out as a waiter, Sanchidrian decided to "devote" himself "body and soul to the beautiful profession" of, ahem, slicing ham, dedicating himself to getting it on the global stage. He now travels the world attending events to educate about Iberian ham, declaring it as one of the four gastronomical jewels of cuisines alongside truffles, caviar and foie gras.
And of course, churros. Fried dough and chocolates, said to be like warm hugs in food form. Like a doughnut in long form, in the last few years churros have made their way around the world and caravans are common outside of Uni campuses – particularly AUT – to capture cramming students.
Drinking it in? Well of course sangria, the wine punch filled with fruit. There is no standard recipe for the stuff, with the taste of tipple instead differing from place to place (though always very strong). The word for blood in Spanish is "sangre", and with the wine used traditionally always red, gives reason as for its name. It came about more than 2000 years ago when the Romans roamed the Iberian Peninsula, planting vineyards along the way. With water considered unsafe for drinking, the lads doused it with alcohol to kill off bacteria. So the first sangrias? Heavily watered down mixes of wine, water, herbs and spices. It was introduced to the Americas in the 1800s, with official accounts conceding its first real fanfare came with the 1964 New York World Fair. And Calimoucho, the "poor man's sangria" and my total go-to – don't knock it 'til you've tried it mate.
Spain is the third largest producer of wine in the world and ninth in terms of worldwide consumptions. A good 80 per cent of the stuff comes from only 20 grapes, the main being Airen which is prized for its hardiness and resistance to drop.
(Another news story insertation here: in January of this year, 107-year-old Antonio Docampo Garcia passed away. The owner of his own vineyard and founder of the Bodegas Docampo wine company, the lad attributed his longevity to his drinking habits, that being four bottles of red wine a day – two with lunch, two with dins – and absolutely no h20. If the same goes for Yellow Label and Jimmy's Henio shall outlive us all).
Coffee is totally a hit here too, with the most popular cup being a "cortado" – an espresso with a liberal splash of milk, served in a glass. It is sad, "Coffee is real good when you drink it; it gives you time to think. It's a lot more than just a drink; it's something happening. Not as in hip, but like an event, a place to be, but not like a location, but like somewhere within yourself. It gives you time, but not actual hours or minutes, but a chance to be, like be yourself, and have a second cup".
Sport in Spain is dominated by football, with Real Madrid known the world over for its soccer skill. Having won the UEFA Championship League 10 times and the La Liga 32, it is dubbed as the most successful club from around the globe. And of course, David Beckham infamously played for the side from 2003; although at first his addition to the team was seen by some as selling out, his quickly won over the Real fans with his dedication and goal setting.
And the festivities, oh the festivities! Perhaps the most legendary is that of Running of the Bulls. The eight-day festival of Sanfermines is held in honour of St Fermin every July 6th to 14th in Pamplona, with the actual scurrying of the beasts on the 7th. The whole thing originated back in the 14th century day with the need to transport the bulls from the fields outside the city where they were bred to the bullrings where they would be slaughtered. During the "run" younger ne'er-do-wells would frolic along with the cattle in a bid to flaunt their bluster and bravado. This soon became a tradition that led to the eminent event every year.
The festival has been broadcast live on Spanish TV for more than 30 years. Those game run in front of about six to 12 bulls that have been let loose in a sectioned-off subset of the town's street, with wooden fences used to direct the bulls through the route and eschew any rogue runners; the space behind the first fence is for security and medics, with spectators behind a second fence. Competitors (human ones I mean) must be at least 18 years old, must not incite the bulls and must not be drunk or tipsy. A rocket is set off at 8am, with a second signalling the bulls have been released; a third and fourth a little while later indicate the herd has entered the bullring marking the end of the event.
The run is a good 875 metres long and goes through the old city. Every year sees between 50 and 100 people injured, with 2013 having 50 taken to hospital, six of whom were guttingly gored. Since 1910, 15 people have met their end – mostly by being pierced by a horn. Traditional dress worn is in white with a red scarf around the waist and red handkerchief at the neck.
It is opposed by many animal activists. In fact, more than 16,000 religious festivals alone around Spain are said to involve animal cruelty with a good 600,000 specimen dying annually in events.
Another celebration causing a cop of controversy Columbus Day, the Spanish national day held every October 12 (Also referred to as Hispanic Day or the Dia de la Hispanidad). This is the day observed to commemorate the arrival of Christopher Columbus in the Americas in 1906 and is celebrated all around the country, marked by the raising of the flag by the King in Madrid followed by a military parade and air show. However, in 2015 Barcelona mayor set off a dispute when he tweeted, "Shame that a nation celebrates a genocide and on top of that, with a military parade that costs 800,000 euros". The mayor of Cadiz (Southern Spain) agreed, tweeting, "We never discovered America, we massacred and suppressed a continent and its cultures in the name of God. Nothing to celebrate – America wasn't discovered, it was invaded and looted". The online outbursts have put into impugn whether or not to rethink the jamboree as a holiday.
And a fun festival; La Tomatina in Bunol, the world's largest food fight. Held every year on the last Wednesday in August, the fete sees a fiery blaze of tomato-hurling during the week-long celebration of non-stop activities. Originally just a festival to honour the patron saints San Luis Bertran and Our Lad of the Forsaken, the origins of the fight itself (held between 11am and 1pm) are said to have begun back in 1945 when the annual parade f bug headed figures were passing through the streets; some youngsters tried to get involved and in their eagerness they accidentally upended one of the giants who started to take swing at them. The youngsters grabbed tomatoes from a nearby stall and flung them back in retaliation, returning the following year armed with handfuls of the ruby red fruit and thus starting the custom.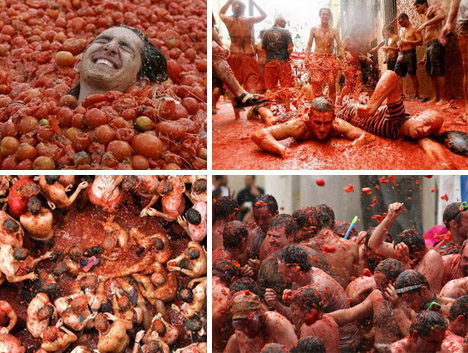 In modern day the ritual sees the town double in size with thousands flocking to get amidst the chaos and in on the tomato tossing. With fireworks, foods and street festivities, a good 20,000 people take part. And the merrymaking is doubly good with the acid in the tomato washing down the cobblestoned streets and leaving them spotless when hosed down.
And in line with dressing, when it comes to fashion the Spanish have a very modern outlook; quality quality quality, but at a reasonable price. And did you know Zara is none other than a Spanish born brand? Yup, the clothing and accessories retailer was founded in 1975 by Amancio Ortega and Rosalia Meera and is now one of the world's largest. The Louis Vuitton fashion director described the label as "the most innovating and devastating retailer in the world", and CNN names it as the success story of Spain. Zara is owned by Inditex , the Spanish multinational clothing company that has its headquarters in Arteixo, Galicia; it is an umbrella parent, with near 100 companies under it in textile design, production and distribution. As the biggest fashion group in the world it operates more than 6600 stores around the world, with its founder and largest shareholder the aforementioned Amancio Ortega. Ortega is Spain's richest man and the world's 4th wealthiest; in October 2015, he even surpassed Bill Gates to sit as number one for four hours at USD$78.6billion.
Famed Spanish superstars? Well, Pablo Picasso for one, one of the greatest and most influential artists of the 20th century and co-creator of Cubism. Born in Malaga in 1881 as Pablo Diego Jose Francisco de Paula Juan Nepomuceno Maria de los Remedios Cipriano de la Santisima Trinidad Martyr Patricio Clito Ruiz y Picasso, he had a set of piercing, watchful black eyes that seemed to mark him as destined for greatness. As a child his mother said to him, "If you become a soldier, you'll be a general. If you become a monk, you'll end up as the pope". He said (at a later date), "Instead, I became a painter and wound up as Picasso". At age 14 Picasso moved to Barcelona to attend the prestigious School of Fine Arts; although he was much younger than required age, his entrance exam was so extraordinary he was granted admission. However, the arty fella wagged on the often, instead taking to the streets to sketch city scenes. Upon moving to Madrid to attend the Royal Academy of San Fernando he continued his wayward ways, painting gypsies, beggars and prostitutes as he grew increasingly frustrated with the focus of his lessons being on traditional forms and artists. In 1889 he relocated back to Barcelona and made mates with a group of artists and intellectuals who made their headquarters at a café; inspired by these anarchists and radicals he made a decisive break from the classical methods he had been trained in and started to experiment and innovate. He moved to Paris in the first of his distinctive epochs from 1901 to 1904 being the "Blue Period"; lonely and depressed following the death of a dear friends, he painted scenes of poverty, isolation and anguish, with almost all in shades of blue and green. Following this came the "Rose Period", with the beiges, pinks and reds signalling the break into Cubism.
The early 1900s saw him painting unlike anything ever seen before, with his art profoundly influencing all around. These included such works as "Les Demoiselles d'Avignon", which showed five naked prostitutes that were abstracted and distorted – it was considered the precursor and inspiration for Cubism, the style started by Picasso and his friend Georges Braque.
What is cubism? Well, it is when objects are broken apart and reassembled in an abstracted form from different viewpoints to give a collage-like effect. It shocked, appalled and fascinated the world upon its burst out, so foreign and outlandish compared with art of old.
Picasso lived a lad life as an adroit womaniser, plugging a long line of lasses from girlfriends to mistresses to prostitutes to muses, before he died at the age of 91 in 1873. He continues to garner reverence today for his technical mastery, his visionary creativity and profound empathy as a revolutionary artist whose legend lives on as the Spaniard with the sombre piercing eyes.
And keeping all artistic, another Spanish sketcher comes in the form of Surrealist icon Salvador Dali. Born in 1904 in Figures, this fella was a precocious and intelligent child who had frequent fits of anger. He attended Academia de san Fernando in Madrid and was known for being extremely eccentric with long hair and sideburns and dressing in a late 19th century style. Moving to Paris in the 1920s he began interacting with artists such as Picasso and Miro, leading to his best known work – The Persistence of Memory – which depicted melting clocks in a landscape setting. The rise of the fascist leader Francisco Franco in Spain led to Dali's expulsion from the Surrealist movement, though he continued to paint until 1980 when the motor disorder he suffered from caused permanent trembling and weakness in his hands.
Further Spanish stars? Penelope Cruz. Born in Madrid in 1974 she started out doing dancing before acting at the age of 15. She moved to Hollywood at 25, and soon after started landing roles opposite Matt Damon and Tom Cruise. She dated Matthew McConaughey after starring opposite him in Sahara in 2005, but the relationship soon dried up and was deserted (yes I did).
Penelope was the first ever Spanish actress to win an Academy Award, getting the gold for her performance in Vicky Christina Barcelona.
Also acting up – the one and only Antonio Banderas. Born in 1960 in Malaga, his dreams of being a soccer superstar were dashed when he badly broke his foot. Instead he turned to drama, moving to Madrid to pursue acting and earning a spot at the National Theatre of Spain. Hs first major breakthrough on the world rostrum came in 1993's Philadelphia, where he played the gay lover of lawyer-with-AIDs Tom Hanks (in character, not in actuality I must clarify). Since then his credits include Interview with a Vampire, Desperado, The Mask of Zorro, the Spy Kids trilogy and as the voice of Puss in Boots in Shrek. He was married to Melanie Griffith until 2014, when the two split after 18 years of connubial.
Mate, I must sing out for Spain in regards to the nextly mentioned sexy Spanish stallion: Enrique Iglesias, my childhood CRUSH. Madrid welcomed him in in 1975, as the son of singer Julio Iglesias. Enrique (because we are on first name basis here) (and I don't want to confuse in with his papa) grew up in Miami, making melodies as a teen. But he was intent on making his own way without his famous last name, shopping out demos to producers under the alias 'Enrique Martinez".
His self-titled album released in 1995 and was a stellar success, going gold in Portugal in just a few days and selling more than six million copies worldwide. His first major hit was Bailamos, which featured in the Will Smith movie Wild Wild West.

His first all-English Enrique album came out in the new millennium year, including hits like Rhythm Divine and Be With You. The next year met Escape, with his same-titled song Escape, Don't Turn Off the Light (not going to lie, one of my top notch go to jams when out treading) and Maybe among the tracks. And of course, Enrique has been in an affiliation with tennis interstellar Anna Kournikova since forever, with engagement rumours abounding every few months that they are engaged.
(Can I just slither in an insertation here and applaud you if you are still reading this dribble. Like, whole hearted hand clap. All I can say is that should you do a general knowledge quiz that some of this comes into aid and allows you to take out the first place, well, place).
And other celebs of Spanish descent? Selma Hayek. Vanessa Hudgens. Cameron Diaz (I know right? Surprised me too). And Bruno Mars.
Righto, some inventions, some quirksome nuances, a cool chronicle then I'll leave you be.
First innovation up is the globally grasped Chupa Chup. The opus of one Enric Bernat in 1958, oldmate Bernat was an employee at an apple jam factory and upon seeing a mother getting frustrated at her child's hand getting all sticky he was inspired to make it stick – literally. The name comes from the Spanish word "chupar", meaning "to lick on or suck". The lollipop is now owned by Italian multinational corporation Perfetti Van Melle.
We can thank the Spanish for the contraption of the mop; 1964 saw one Manuel Jalon Corominas coming up with the maned wet broom after a trip to the USA had him observing people using a cot wrung out through rollers in a bucket to clean an aeroplane hangar.

The space suit – designed by Emilio Herrera Linares in 1935. It was actually initially invented for hot air ballooning in high altitudes but Neil Armstrong appropriated it for his mission to the moon.
Filtering them through to the cigarette as we know it. The smoothly wrapped paper-rod shaped stick was first made by the Spanish in the 17th century. Formerly made of maize papers, by the 19th century darts were packaged and marketed in bulk.
(Interesting insertation: upon my travel to Victoria Coach Station to catch my National Express bus to Luton Airport for my flight to Barcelona, on the tube I picked up the free Metro newspaper and found on page three an article titled, "Cough up! 23 pounds for 20 cigarettes". It was talking of the price of fags in Australia undergoing a series of tax hikes and looking set to hit 23 pounds per pack come four years from now what with a 12.5 per cent rise each year from 2017 to 2020. Currently a pack costs 15 pounds in Aus, with UK pricing the same at 9.16, Germany at 4.26 and 2.74 in Poland. I just found it brain boggling!).
Back to originations and creations: chess (although the game can be traced back centuries, the common consensus is that the Moors took it to Western Europe and that the first modern games were played in Spain. It is definite that the first automated chess board was that of Leonardo Torres y Quevedo's, however, with the chap taking it to a Paris convention in 1914), the acoustic guitar (12th century pluck up), the beret (not French as most would firs think! It was designed by shepherds centuries ago in the Basque country, with the flat-crowned hat made to protect herders from the elements), Coca-Cola (I know – not US! Although the official line is that the fizz first fuzzed (fuzzed? Fizzed?) in Atlanta, the citizens of Aelo de Malferit claim the drink was their doing with Nuez de Kola Coca concocting it in 1884 and taking it to the States where it won a prize at a Philadelphia fair), sherry (although a drink associated with British grandmothers and there being many British brands of it, sherry actually comes from the town of Jerez in Andalusia. It was named after the Arabic word for the town, being "Sherish") and Fuzball (no not German! Table soccer, known as "Futbolin" in Spain, has its patent under the ownership of one Alejandro Finisterre. Whilst overcoming injuries inflicted upon him in the Spanish Civil War in the 1930s he came up with the plastic park ballgame as a way for him and his also incapacitated comrades to be able to play football. However, the roots are in dispute, with some saying it is an invention of the French).
So the typical Spanish soul is said to be courteous, proud, enthusiastic, undisciplined, tardy, temperamental, gregarious, noisy, honest, noble, fun-loving, boisterous, possessive, spontaneous, creative, sociable, friendly, loyal, extroverted, irritating, warm-hearted, fiery, humorous, spirited, hospitable, dignified and – on the ball – a football fanatic. The illustrious "they" say that all have the infamous manana syndrome, that being that everything is possible tomorrow – no problemo! – but be warned; "tomorrow" can mean anything from the next day to the one after to next week, next month, next year. But the motto goes, "Don't do today what you can put off until manana". So if a workman says he will be there at 11am ask which day, which month and which year he has in mind.
Spanish stereotypes include being dismissive of time constraints (no sense of urgency with appointments, timetables or opening hours, with deadlines treated with disdain; "they" – them again! – say the only thing the Spanish are on time for is a bullfight), that Spanish men are world champion hedonists only interested in five things – sex, football, food, alcohol and gambling – and that the main preoccupation of the people is to have a good time. The Spanish zest for life is said to be matched by very few others, and that there is a childish pleasure in making the most of everything and grasping every op the make it all the more merry. When not attending a fiesta or impromptu party, the Spanish are said to be found in bars and restaurants indulging in the much prized pastimes of eating and drinking.
And when not eating or "playing" with their food (I.e., chasing a steak around a ring), the Spanish are allegedly having sex – the men have a rep as being lauded lovers.
The Spanish societies are very sensitive to criticism, especially in regards to their history and traditions.
Righto, randoms.
There is a much lower incidence of stress related disease in Spain than European countries further north
The Spanish National Anthem has no words
There are no laws against public nudity (though this does not mean you can just get your wang out)
Prostitutes have to wear reflective vests to reduce accidents (what the blazes do they get up to?)
People are often referred to as "Don" or "Dona" and their first name when in a formal situation (mate, if I ever end up with a Barcelonan babe our first born shall be Donald, no doubt).
Now, I'm just going to end on a little news item from January this year that I found rather hands on.
So. A farmer from Castellon was sentenced to four years' imprisonment and a 3000 euro fine on top of having to pay back 335000 euros of insurance money after it was revealed that rather having his hand truncated in an automobile accident as he claimed (literally with his coverage), he had actually hacked it off himself. Back in 2007 the man staged a car crash to rake in insurance money following financial troubles and struggles to pay off his mortgage. It is unknown whether he did the entire amputation himself or whether he had aid, but it is believed he applied a tourniquet to stem the bleeding, got into his vehicle and drove to a curved corner where he purposely swerved, landing in an orange grove. He then jammed his hand in the footwell and torched his car with petrol. When the ambulance arrived they found him calmly convening with his cigar. The man went to eight different insurance companies to collect compensation, all of which he must now refund.
So there you have Spain! Much acclaim if you are still here (I would've left in par two). Now that socio is said let's hustle back to What Sarah and I were up to (get that Man?) on Barcelona day two.